In honor of the Grand Opening of the world's first discotheque the "Whiskey-a-Go-Go" in Los Angeles, California on January 11, 1964, we proudly present: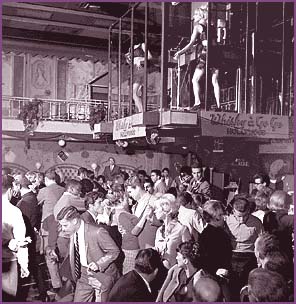 The Whisky A-Go-Go, at

8901 Sunset Blvd at Clark, West Hollywood, CA

became the principal hangout of Sunset Strip musicians and hipsters in the 1960s

The 1967 film The Graduate features Dustin Hoffman's character Benjamin running out its doors into the street

Johnny Rivers was the first sensation to come out of the club, soon after it opened

The 'trend' of having a mini-skirted girl dancing above the crowd in a cage

got its start at the club

The Whisky always had two or three bands playing, but they were not always billed.

Often the unbilled bands were simply local bands, but it being Hollywood and all, sometimes unbilled local groups acting as the house band went on to become hugely famous

(like The Doors)
At times, the billed bands couldn't make it, and another band was substituted. While this is common in nightclubs, what was uncommon about the Whisky was that the band substituting could be just as good or better, and possibly even better-known, than the band it was replacing

It was not uncommon for a group to be booked for a week at the Whisky and then to skip a night for a larger gig

The Whisky, in its heyday, was open six or seven nights a week

When no one well-known was billed, local groups from LA would play

A partial list of the acts that played at the Whisky - it is literally a "Who's Who" of Rock 'n Roll:
The

Turtles

Otis Redding

Jefferson Airplane (later Jefferson Starship/Starship)

The Byrds

Sam & Dave

The Rascals

The Jimi Hendrix Experience

Smokey Robinson & The Miracles

Cream

Eric Burdon & The Animals

Them

Steppenwolf

John Mayall's Bluesbreakers

Steppenwolf

The Hollies

Lemon Pipers

Traffic

Canned Heat

The Nazz

Three Dog Night

Ten Years After
Alice Cooper

Steve Miller Band

Chicago Transit Authority (later Chicago)

Velvet Underground

Taj Mahal

Led Zeppelin

Pink Floyd

Bob Seger

Flying Burrito Brothers

Linda Ronstadt

Dr. John

Blues Image

Count Bassie

Junior Walker

Buddy Rich

Mountain

The Zombies

Chuck Berry

Little Richard

The Kinks

King Crimson
Grand Funk Railroad

Humble Pie

Fleetwood Mac

Golden Earring

Iron Butterfly

Sha na na

Billy Preston

The Five Stairsteps

Mott the Hoople

Redbone

The Beach Boys

Black Sabbath

Allman Brothers

BB King

Sugarloaf

J Giles Band

Ted Nugent

Brownsville Station

Mothers of Invention

Yes

War
Elvin Bishop

Quicksilver Messenger Service

Edgar Winters

Little Feat

LaBelle

Badfinger

ZZ Top

Nazareth

Looking Glass

Flo and Eddie

Foghat

Stevie Wonder

Steely Dan

Roxy Music

Focus

Status Quo

Chambers Brothers

Climax Blues Band

Iggy and the Stooges

Rufus (featuring Chaka Khan)
New York Dolls

Funkadelic

Bachman Turner Overdrive

Aerosmith

Lynyrd Skynyrd

Rick Springfield

Van Halen

Motley Crue

Guns 'n Roses

and many, many more...
-----------------------------------------------------------------------------
We strongly encourage READER PARTICIPATION.
HEY YOU
! Yes you. You are invited to submit your own favorite amazing fact or statistic. If you'd like, we'll even publish your name (or your organization's name) and give you credit for your contribution.
Note
: Unless you are particularly dense, you will recognize that we are actually offering you

FREE PUBLICITY

in exchange for a mere tidbit of information.
Simply click on the hyperlink below to submit your gem:
If the hyperlink above isn't working, first you must first blame your browser (Internet Explorer 8 seems to be an exceptionally popular source of consumer dissatisfaction), then your ISP Provider, then Bill Gates (or Steve Jobs), and mutter a rapid string of profanities under your breath. Kick furniture if you feel it necessary. [Feel better?] Then, just click on this one, and get direct access.
---
Capital, Traffic Building, International Customers and unique SERVICES.
The National Networker Publications™ produced by TNNWC Group, LLC


Resources for Business Planning, Development, Capital and Growth
Forward/Share This Article With Colleagues And Social Media: