BLUE THING #3: Amazing New Facts and Statistics
Why? These amazing facts and statistics are informative, fascinating, fun to forward to friends, and occasionally hysterical. This post is unbelievably hysterical. We promise. Read it, click on the little envelope-shaped icon at the very bottom of the whole BLUE THING POSTING, and send this to 10 friends, colleagues or business associates with your own custom transmittal email attached. They'll thank you. Oh yes. They surely will.
NOW FEATURING A

TAG CLOUD FOR THE WEEK

- This cloud is generated from the TNNW RSS Feed and Daily Email Blog at
http://TheNationalNetworker.blogspot.com
(you should be getting either the RSS Feed or the Daily Email to supplement your membership). The cloud is featured below, following the Amazing New Facts and Statistics.
We strongly encourage READER PARTICIPATION.....
IF YOU have an amazing fact, statistic or hysterical story to share with out readership, tell us right now. Don't be selfish. Share if you care. Just click:
You are invited to submit your favorite amazing fact or little-known statistic and get it published here, boldly showcased in the perfectly rectangular enclosure of

BLUE THING #3.

But be advised that you must be a Subscriber in order to participate. If you're not already a subscriber, click on the following link before you read on:

http://twitlik.com/IN
.

If you are already a Subscriber, please proceed to the next paragraph for "the elevator pitch."
HEY YOU
! Yes you. Since you are now a Subscriber to THE NATIONAL NETWORKER NEWSLETTER, you are invited to submit your own favorite amazing fact or statistic. If you'd like, we'll even publish your name (or your organization's name) if you'd like and give you credit for your contribution.
Note
:
Unless you are particularly dense, you will recognize that we are actually offering you

FREE PUBLICITY

in exchange for a mere tidbit of information.
Simply click on the hyperlink below to submit your gem:
If the hyperlink above isn't working, first you must first blame your browser (Internet Explorer 8 seems to be an exceptionally popular source of consumer dissatisfaction), then your ISP Provider, then Bill Gates (or Steve Jobs), and mutter a rapid string of profanities under your breath. Kick furniture if you feel it necessary. [feel better?] Then, just click on this one, and get direct access.
Following is a veritable cesspool teeming with trivial items to use in pick-up lines in bars, to fill awkward silences in credit committee meetings, and to forward (via email) to the spam filters of Oprah, Bill O'Reilly, Bono, Paris Hilton, Harry Potter [either one], any member of the board of directors of Bank Of America, the president or prime minister of your home nation, or one or more of your many friends, family members and people who have far too much time on their hands.
Here goes:

Commemorating the shipping of the bells for the first American carillon from England to Boston on March 9th, 1745 we proudly present:


Interesting Facts About Carillons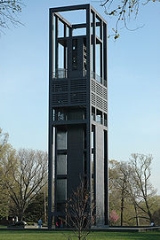 A
carillon
is a
musical instrument
Musical instrument

A musical instrument is an object constructed or used for the purpose of making the sounds of music. In principle, anything that produces sound can serve as a musical instrument. The history of musical instruments dates back to the beginnings of human culture...
that is usually housed in a free-standing
bell tower
, or the belfry of a church or other municipal building. The instrument consists of at least 23 cast bronze cup-shaped
bell
Bell (instrument)

A bell is a simple sound-making device. The bell is a percussion instrument and an idiophone. Its form is usually a hollow, cup-shaped object, which resonates upon being struck...
s, which are played serially to play a melody, or sounded together to play a chord. A carillon is played by striking a
keyboard
called a "baton" with the fists and by pressing the keys of a pedal keyboard with the feet. The keys mechanically activate levers and wires that connect to metal clappers that strike the bells, allowing the performer, the
carillonneur
, to vary the intensity of the note according to the force applied to the key.
The carillon is the heaviest of all musical instruments; the total weight of bells alone can be 100 tons in the largest instruments.
The greatest concentration of carillons is still found in the Netherlands, Belgium, and Northern France, where they were symbols of civic pride and status. Some of the most spectacular are now protected by
UNESCO
UNESCO

The United Nations Educational, Scientific and Cultural Organization is a specialized agency of the United Nations established on 16 November 1945...
as part of the world heritage site the
Belfries of Belgium and France
.
The world's largest is housed in New York City's
Riverside Church
Riverside Church
The Riverside Church in the City of New York is an interdenominational church in New York City, famous not only for its elaborate Gothic architecture—which includes the world's largest carillon—but also as a center for the promotion of progressive causes...
.
Since each separate note is produced by an individual bell, a carillon's
musical range
is determined by the number of bells it has. Different names are assigned to instruments based on the number of bells they comprise:
Carillons with 23 through 27 bells are referred to as two-octave carillons. Players of these instruments often use music arranged specifically for their limited range of notes.
The "keyboard" of a carillon is called a baton console.
A concert carillon has a range of at least four octaves (47 bells). This is sometimes referred to as the "standard-sized" carillon.
The Riverside Carillon in New York City has (or did have—there may be other instruments with larger
bourdon
Bourdon (bell)
The bourdon is the heaviest of the bells that belong to a musical instrument, especially a chime or a carillon, and produces its lowest tone....
s) the largest tuned bell in the world, which sounds the C two octaves below middle C on the piano.
Travelling or mobile carillons are not placed in a tower, but can be transported. Some of them can even be played indoor—in a concert hall or church—like the mobile carillon of Frank Steijns.
Modern imitation instruments (such as those made by Schulmerich) use

semantra


(rectangular metal bars roughly the diameter of a pencil, but of varying lengths) struck by an electric

solenoid

. They may be played from a keyboard, organ console, or by means of

music roll

s. The resulting sound is electronically

amplified

and broadcast by

loudspeaker

s. Although called "carillons" or "electronic carillons", their sound does not conform to the definitions given by the World Carillon Federation or the

Guild of Carillonneurs in North America

Guild of Carillonneurs in North America

The Guild of Carillonneurs in North America is a professional society of carillonneurs in the United States and Canada, dedicated to the promotion of the carillon art. The GCNA was founded in Ottawa, Ontario in 1936 and is a member of the World Carillon Federation . It holds an annual congress at...


. The GCNA as of 2000 has disqualified all instruments in which more than 12 bells are played electrically. Twelve bells are allowed so that automatic chiming of tunes may take place. Chiming means that one bell at a time is usually played.
The carillonneur or carillonist is the title of the
musician
who plays the carillon. The carillonneur/carillonist usually sits in a cabin beneath the bells and presses down, with a loosely closed fist, on a series of baton-like keys arranged in the same pattern as a piano keyboard. The batons are almost never played with the fingers as one does a piano, though this is sometimes used as a special carillon playing technique. The keys activate levers and wires that connect directly to the bells' clappers; thus, as with a piano, the carillonneur can vary the intensity of the note according to the force applied to the key. In addition to the manual keys, the heavier bells are also played with a pedal keyboard. These notes can either be played with the hands or the feet.
To a musician's ear, a carillon can sound "out of tune." Poorly tuned bells often give this impression and also can be out of tune with themselves. This is due to the unusual
harmonic
Harmonic

In acoustics and telecommunication, a harmonic of a wave is a component frequency of the signal that is an integer multiple of the fundamental frequency. For example, if the fundamental frequency is...
characteristics of
foundry
Foundry
A foundry is a factory that produces metal castings from either ferrous or non-ferrous alloys. Metals are turned into parts by melting them into a liquid, pouring the metal in a mold, and removing the mold material or casting after the metal has solidified as it cools. The most common metal...
bells, which have strong overtones above and below the
fundamental frequency
Fundamental frequency

The fundamental tone, often referred to simply as the fundamental and abbreviated f
0
or F
0
, is the lowest frequency in a harmonic series....
. Foundry bells are tuned to have the following set of partials (overtones):
Octave above prime
Fifth
Minor third
Prime and strike tone resultant
Hum tone (an octave below prime)
Additionally, there is a major 10th, 12th, and 15th which are not typically individually tuned, but are usually present anyway. They all combine to create a "resultant" pitch, which is in unison with prime on a well-tuned bell. Properly tuned bells emphasize the fundamental frequency of the bell.
-----------------------------------------------------------------------------
---
THIS ARTICLE--THIS AUTHOR--YOUR FEEDBACK

(1) If you would like to post a comment on this article for this author and for other readers to see, or if you would like to read the comments which have been posted by others, simply scroll down to the very bottom of this article (where it says "Posted by...") and click on the small text hyperlink that says "comments": a pop-up window will open which shows all of the comments posted by others. At the end of the other posts, there is a textbox for you to post your own comment.

(2) If you would prefer to contact the author in confidence, or to write at greater length regarding reciprocal links, special projects or professional issues, simply click on the button in this box labeled "CONTACT AUTHOR," and a pop-up form will magically appear for your use. It even allows you to include web and blog urls, downloads and attachments of all sorts.

(3) If you have not yet become a Member of THE NATIONAL NETWORKER COMPANIES (there is no charge), you should do that using the buttons below. Click on FREE NEWSLETTER button to start the process; then choose either the RSS Feed or the Daily Email delivery option.
---
*Follow TNNW on Twitter at http://twitter.com/TNNW_BUZZWORKS
*Published by TNNWC. All rights reserved.
*Join our GICBC and receive Your TNNW Newsletter and THE BLUE TUESDAY REPORT! - Click HERE
The National Networker Companies
Forward/Share This Article With Colleagues And Social Media: