Commemorating the debut of 24 year old sensation, Ludvig van Beethoven on March 29th, 1795 in Vienna we proudly present:
Amazing Facts About Ludvig van Beethoven
Ludvig van Beethoven, 1770-1827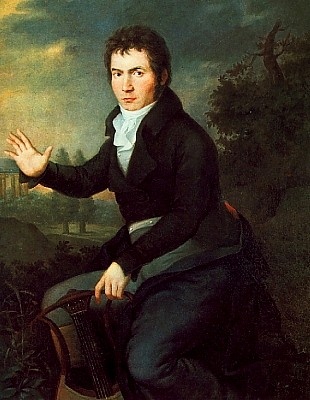 Born in 1770 in Cologne, Germany, Beethoven performed in public by the age of seven, and while not quite the sensation that the young Mozart was, he was quickly recognized as a brilliant musical talent.
He moved to Vienna while in his early twenties and settled there, studying with Joseph Haydn and gaining a solid reputation as a virtuoso pianist.
Beethoven wrote 9 symphonies, 7 concertos, 17 string quartets, 32 piano sonatas, and 10 sonatas for violin and piano.
Beethoven dipped his head in cold water before he composed.
There were three major periods of Beethoven's musical life. The second period, sometimes called the "Heroic" period, lasted from 1803 to 1814 and is named for the tremendous works that express struggle and heroism. His famous Fifth Symphony was one of the many pieces of music written during this period.
He also popularized instrumental music in a European culture that had a preference for vocal music such as operas.
Even though he wrote only one classical opera, Fidelio, he remains one of the most acclaimed and influential composers of all time.
As one who scorned authority and social rank, he would stop performing at his piano if the audience was talking too much or not giving him their full attention. At soirées, he refused to perform if suddenly called upon to do so.
Beethoven began having hearing problems as early as 1802. What started as an annoying ringing in his ears worsened until he was almost totally deaf by 1816.
The cause of deafness is unknown, but it has variously been attributed to syphilis, lead poisoning, typhus, autoimmune disorder and even his habit of immersing his head in cold water to stay awake.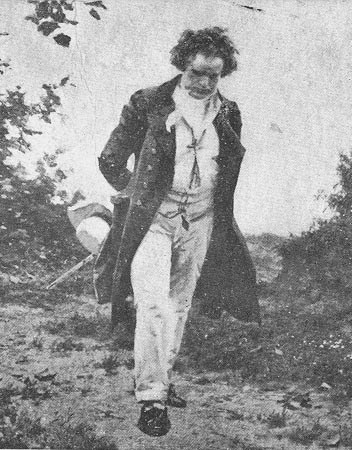 A large collection of his hearing aids, such as special ear horns, can be viewed at the Beethoven House Museum in Bonn, Germany.
He used a special rod attached to the soundboard on his piano that he could bite. The vibrations of the bite would then transfer from the piano to his jaw thus increasing his perception of the sound.
At the premier performance of his final masterpiece, the Ninth Symphony, Ludwig van Beethoven had to turn around to see the audience's thunderous applause: he was too deaf to hear it.
Strange but true: Beethoven was extremely particular about his coffee , he always counted 60 beans per cup.
Beethoven was bedridden for most of the last months of his life. Many friends came to visit him and when he died on March 26, 1827, it was during a thunderstorm. His friend, Anselm Hüttenbrenner, who was present at the time, claimed that there was a peal of thunder at the moment of his death.
Despite his reputation for being rude and angry, Beethoven had many friends and was well liked. More than 20,000 people attended his funeral.
----------------------------------------------------------------------------
We strongly encourage READER PARTICIPATION.
HEY YOU
! Yes you. You are invited to submit your own favorite amazing fact or statistic. If you'd like, we'll even publish your name (or your organization's name) and give you credit for your contribution.
Note
: Unless you are particularly dense, you will recognize that we are actually offering you

FREE PUBLICITY

in exchange for a mere tidbit of information.
Simply click on the hyperlink below to submit your gem:
If the hyperlink above isn't working, first you must first blame your browser (Internet Explorer 8 seems to be an exceptionally popular source of consumer dissatisfaction), then your ISP Provider, then Bill Gates (or Steve Jobs), and mutter a rapid string of profanities under your breath. Kick furniture if you feel it necessary. [Feel better?] Then, just click on this one, and get direct access.
---
Capital, Traffic Building, International Customers and unique SERVICES.
The National Networker Publications™ produced by TNNWC Group, LLC


Resources for Business Planning, Development, Capital and Growth
Forward/Share This Article With Colleagues And Social Media: